Principal Dentist and Clinical Director
gdc no.229562
BDS (PCMD) 2012 BENg (Hons) (Lond) MFDS RCSEd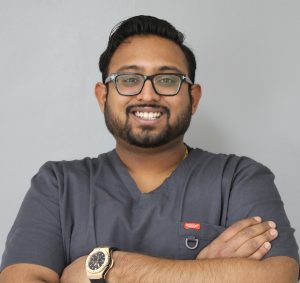 Dr. Mital Patel graduated from Dentistry in 2012 from Peninsula Dental School, and successfully obtained his Membership of the Faculty in Dental Surgery (Royal College of Surgeons) in 2014. He also has an Engineering degree in Dental Materials. Dr Patel started his foundation training at the Walden Dental Clinic under Dr David Wilkinson before moving on to other NHS & Private practices in Essex, London, as well as Reading.
Dr Patel returned to The Walden Clinic in May 2016 and took over the practice from David Wilkinson with Dr Fred Fernando and Dr Suren Fernando. Dr Patel still works in London 4 days a week.
Dr. Patel enjoys practising all aspects of dentistry especially non-invasive cosmetic dentistry with the use of Braces and Implants. He is also a firm believer in Digital Dentistry, so you will see most of the up to date gadgets in his surgery. He is continuously attending various courses in order to further deliver the highest quality of dental care to all of his patients.
He has undertaken the prestigious Tipton course for Implant dentistry. He is able to provide both simple and complex treatments such as sinus augmentation and teeth in a day. He is also well in trained in a number of different implant systems.
Dr Patel is also keen on orthodontic treatment and is able to provide braces for both adults and children. He is a certified provider of Invisalign, Inman Aligner, 6 Months Smile, Fast braces, Quick Straight Teeth, Lingual Braces and Damon Braces and is able to treat both Adults and children on a Private basis. He is a strong believer in Full Face Orthodontics and is currently undertaking postgraduate qualifications under the world-renowned Dr Derek Mahoney. Dr Patel uses braces not only to straighten teeth to give you a beautiful smile but to also improve function such as sleeping, TMJ and breathing as well as facial profile. Dr Patel does not promote any particular system and solely basis his options on what is best for the patient.
Dr Patel has a friendly, humorous, approachable demeanour and always ensures patients are at ease during treatments, making the visit to the dentist more enjoyable!
Other than dentistry, he has a keen interest in sports such as MMA, boxing, cricket and football and is an avid Arsenal supporter. He also enjoys spending time with his young family.